Heroic Skills
Heroic Skills can be seen in the Hero page in the Pause menu. They can be leveled up by acquiring Hero Points. Each point put it a specific skill increases its damage output, Area of Effect, Hit Frequency, Skill Duration, etc. or reduces mana cost for skill use and skill cooldown.
Each Heroic Level brings you 1 Heroic Point which can be spent into 2 types of Heroics skills :
- 16 Offensives Heroic skills (Applies on OH and MH) [class dependent skills]
- 4 Utilitaries Heroic skills (Applies on the character itself whatever the skills used) [for all classes same]
Heroic points can be rewarded by feats.
---
Wizard Skills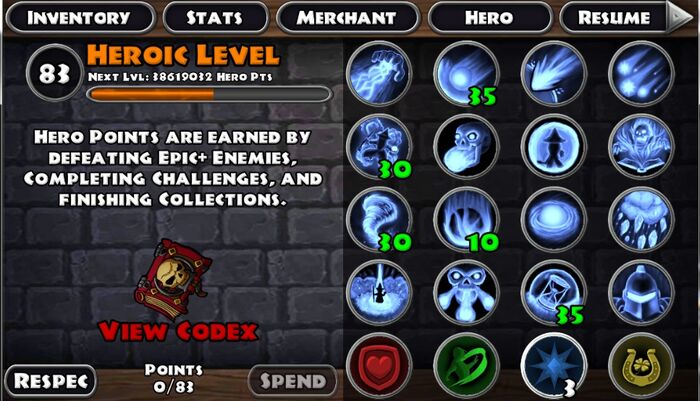 Skill
Damage
Perk 1
Perk 2
Perk 3
Blast
+5% Damage
+0.5 Crit Chance
+1% Hit Frequency
-1% Skill Cost
+5% Per Level
+5% Per Level
+1% Per Level
-1% Per Level
Comet
+5% Damage 
+1% AoE Radius
+1% AoE Damage
-1% Skill Cost
+5% Per Level
+1% Per Level
+1% Per Level
-1% Per Level
Pierce
+5% Damage
+2.5% Damage Per Pierced
+1.5% Projectile Speed
-1% Skill Cost
+5% Per Level
+2.5% Per Level
+1.5% Per Level
-1% Per Level
Barrage
+5% Damage
+2.5 Attacks per Second
+3% Projectile Speed
-1% Skill Cost
+5% Per Level
+2.5 Per Levels
+3% Per Level
-1% Per Level
Teleport
+5% Damage
+1% AoE Radius
+1% AoE Damage
-1% Skill Cost
+5% Per Level
+1% Per Level
+1% Per Level
-1% Per Level
Skullshield
+5% Damage
+1% Damage Reduction
+2.5% Hit Frequency
-1% Skill Cost
+5% Per Level
+1% Per Level
+2.5% Per Level
-1% Per Level
Manashield
+5% Damage
+2.5% Reflect DMG
+1% Spell Duration
-1% Skill Cost
+5% Per Level
+2.5% Per Level
+1% Per Level
-1% Per Level
Summon
+5% Damage
+1% Summon Health
+2.5% Summon Damage
-1% Skill Cost
+5% Per Level
+1% Per Level
+2.5% Per Level
-1% Per Level
Twister
+5% Damage
+1% Hit Frequency
+1% Spell Size
-1% Cooldown
+5% Per Level
+1% Per Level
+1% Per Level
-1% Per Level
Meteor
+5% Damage
+1% Spell Size
-1% Cooldown
+ 0 Multiple Attacks
+5% Per Level
+1% Per Level
-1% Per Level
+1 Per 10 Levels
Orb
+5% Damage
+1% Hit Frequency
-2.5 Projectile Speed
+1% Spell Size
+5% Per Level
+1% Per Level
-2.5% Per Level
+1% Per Level
Storm
+5% Damage
+2.5% Hit Frequency
-1.5% Cooldown
-1% Skill Cost
+5% Per Level
+2.5% Per Level
-1.5% Per Level
-1% Per Level
Shatter
+5% Damage
+1% AoE Radius
+1% AoE Damage
+2.5% Stun Chance
+5% Per Level
+1% Per Level
+1% Per Level
+2.5% Per Level
Skulldraga
+5% Damage
-1% Cooldown
+1% Summon Health
+1% Summon Damage
+5% Per Level
-1% Per Level
+1% Per Level
+1% Per Level
Timewarp
+5% Damage
+1% Spell Size
+2.5% Projectile Speed
+1% Spell Duration
+5% Per Level
+1% Per Level
+2.5% Per Level
+1% Per Level
Command
+5% Damage
+2.5% Summon Health
+1% Summon Damage
-1% Cooldown
+5% Per Level
+2.5% Per Level
+1% Per Level
-1% Per Level
---
Warrior Skills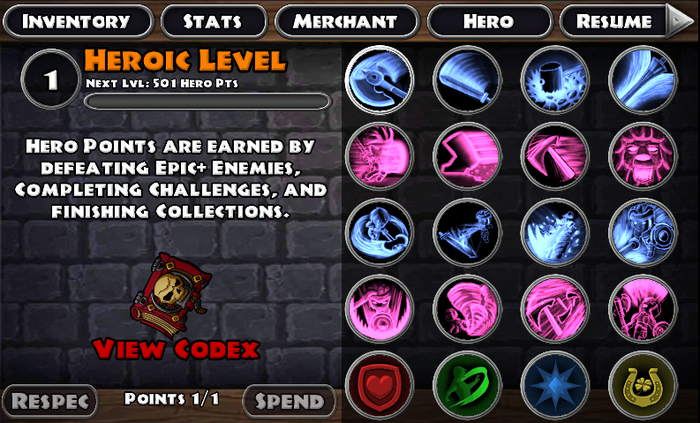 Skill
Damage
Perk 1
Perk 2
Perk 3
Cleave
+5% Damage
+1.5% Bleed chance
+2.5% Bleed Damage
-1% Skill Cost
+5% Per Level
+1.5% Per Level
+2.5% Per Level
-1% Per Level
Flurry
+5% Damage 
+0 Extra attacks
+0.5% Critical chance
-1% Skill Cost
+5% Per Level
+1 Per 10 Levels
+0.5% Per Level
-1% Per Level
Smash
+5% Damage
+1% Stun Chance
+5% Critical Damage
-1% Skill Cost
+5% Per Level
+1% Per Level
+5% Per Level
-1% Per Level
Charge
+5% Damage
+ 1% AoE radius
+2.5% Stun Chance
-1% Skill Cost
+5% Per Level
+1% Per Level
+2.5% Per Level
-1% Per Level
Bash
+5% Damage
+2.5% Critical damage
+2.5% Knockback
-1% Skill Cost
+5% Per Level
+2.5% Per Level
+2.5% Per Level
-1% Per Level
Sprint
+5% Damage
+1% Movement speed
+1% Spell duration
-1% Skill Cost
+5% Per Level
+1% Per Level
+1% Per Level
-1% Per Level
Toss
+5% Damage
+2% Piercing chance
+1% Bleed chance
-1% Skill Cost
+5% Per Level
+2% Per Level
+1% Per Level
-1% Per Level
Fear
+5% Damage
+1% AoE radius
+2.5% AoE damage
-1% Skill Cost
+5% Per Level
+1% Per Level
+2.5% Per Level
-1% Per Level
WhirlWind
+5% Damage
+0.4% Movement speed
+1% Spell Size
+2.5% Hit frequency
+5% Per Level
+0.4% Per Level
+1% Per Level
+2.5% Per Level
Throwsword
+5% Damage
+2% Projectile speed
+1% Damage per pierced
+ 0.5% Critical chance
+5% Per Level
+2% Per Level
+1% Per Level
+0.5% Per Level
Earthshatter
+5% Damage
+5% Critical damage
+2.5% Knockback
-0.5% Cooldown
+5% Per Level
+5% Per Level
+2.5% Per Level
-0.5% Per Level
Knightscharge
+5% Damage
+1% Movement speed
+2.5% Spell duration
+2.5% Hit frequency
+5% Per Level
+1% Per Level
+2.5% Per Level
+2.5% Per Level
Shieldwall
+5% Damage
+0.25% Damage reduction
-1% Cooldown
+1% Movement speed
+5% Per Level
+0.25% Per Level
-1% Per Level
+1% Per Level
Torrent
+5% Damage
+1% Hit frequency
+1% Spell size
+1% Cooldown
+5% Per Level
+1% Per Level
+1% Per Level
+1% Per Level
Scalp
+5% Damage
+2.5% Bleed damage
+2.5% Hit frequency
+2.5% Knockback
+5% Per Level
+2.5% Per Level
+2.5% Per Level
+2.5% Per Level
Taunt
+5% Damage
+1% AoE radius
+2.5% AoE damage
+0.5% Stun chance
+5% Per Level
+1% Per Level
+2.5% Per Level
+0.5% Per Level
---
Rogue Skills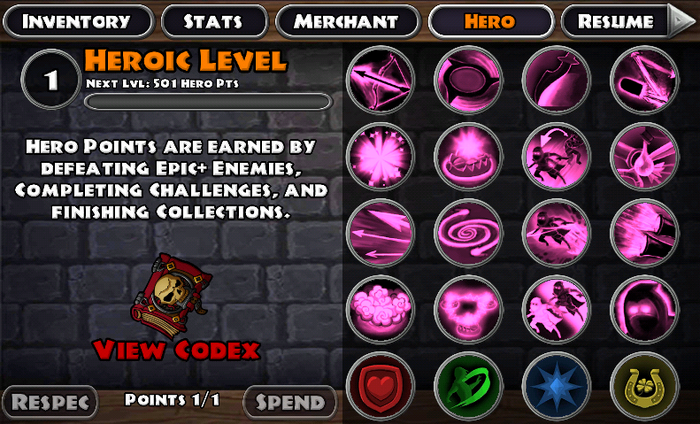 Skill
Damage
Perk 1
Perk 2
Perk 3
Guided Shot
+5% Damage
+2.5% Damage per pierced
+1% Spell duration
+0 Redirects
+5% Per Level
+2.5% Per Level
+1% Per Level
+1 Per 5 Level
Boomerang
+5% Damage 
+1% Projectile speed
+1% Damage per Pierced
-1% Skill Cost
+5% Per Level
+1% Per Level
+1% Per Level
-1% Per Level
Quickattack
+5% Damage
+1% Bleed chance
+2% Bleed damage
-1% Skill Cost
+5% Per Level
+1% Per Level
+2% Per Level
-1% Per Level
Ricochet
+5% Damage
+1.5% Rebound chance
+1% Projectile speed
-1% Skill Cost
+5% Per Level
+1% Per Level
+1% Per Level
-1% Per Level
Vault
+1% Movement speed
+1% AoE radius
-1% Skill Cost
+1% Per Level
+1% Per Level
-1% Per Level
Laytrap
+5% Damage
+1% Stun chance
+1% Hit frequency
-1% Skill Cost
+5% Per Level
+1% Per Level
+1% Per Level
-1% Per Level
Swap
+5 Damage
+1% AoE radius
+1% AoE damage
-1% Skill Cost
+5% Per Level
+1% Per Level
+1% Per Level
-1% Per Level
Coatweapon
+1% Movement speed
+0.75% Critical Chance
+1% Spell duration
+1% Per Level
+0.75% Per Level
+1% Per Level
Multishot
+5% Damage
+2.5% Critical damage
-1% Cooldown
+1% Knockback distance
+5% Per Level
+2.5% Per Level
-1% Per Level
+1% Per Level
Whirlingblade
+5% Damage
+2.5% Damage per Piereced
+1% Spell size
+ 1% Bleed DMG
+5% Per Level
+2.5% Per Level
+1% Per Level
+1% Per Level
Blinkstrike
+5% Damage
+1% Critical chance
+1% Critical damage
+0 Multiple attacks
+5% Per Level
+1% Per Level
+1% Per Level
+1 Per 10 Levels
Scattershot
+5% Damage
+1% AoE radius
+1% AoE damage
+2.5% Critical damage
+5% Per Level
+1% Per Level
+1% Per Level
+2.5% Per Level
Smokebomb
+5% Damage
+1% AoE radius
+1% AoE damage
-1% Cooldown
+5% Per Level
+1% Per Level
+1% Per Level
-1% Per Level
Sentry
+5% Damage
+1% Stun chance
+1% Hit frequency
+1% Spell duration
+5% Per Level
+1% Per Level
+1% Per Level
+1% Per Level
Mirrorimage
+5% Damage
+1% Summon damage
-0.5% Cooldown
+1% Spell duration
+5% Per Level
+1% Per Level
-0.5% Per Level
+1% Per Level
Stealth
+0.5% Movement speed
+10% Spell duration
+1% Skill cost
+0.5% Per Level
+10% Per Level
+1% Per Level
---
Utilitaries Skills
Class independent Skills
Skill
Damage
Perk1
Perk2
Perk3
Strength
+1% HP
+500 Armor
+50 HP Regen
+1% Per Level
+500 Per Level
+50 Per Level
Dexterity
+0.5% Cooldown
+0.5% Dodge
+0.5% Move Speed
+0.5% Per Level
+0.5% Per Level
+0.5% Per Level
Intelligence
      
+1% Total MP
+50 All Resist
+50 MP Regen
     
+1% Per Level
+50 Per Level
+50 Per Level
Fortune
      
+2.5% Luck
+2.5% Gold Find
+2.5% Item Drops
    
+2.5% Per Level
+2.5% Per Level
+2.5% Per Level